Semper Strong has been changing lives since we were established in 2014.
We believe that fitness and athletics are a lifestyle leading to success in all aspects of life.
Katy Forman has made the connection between mental health & exercise for both children and adults. As an educator, mental health advocate, and trainer…she began meeting the needs of athletes and people using exercise as a tool both mentally and physically.
She inspires others through keynote speaking events, professional development, walking the walk and spreading her message for the good of people.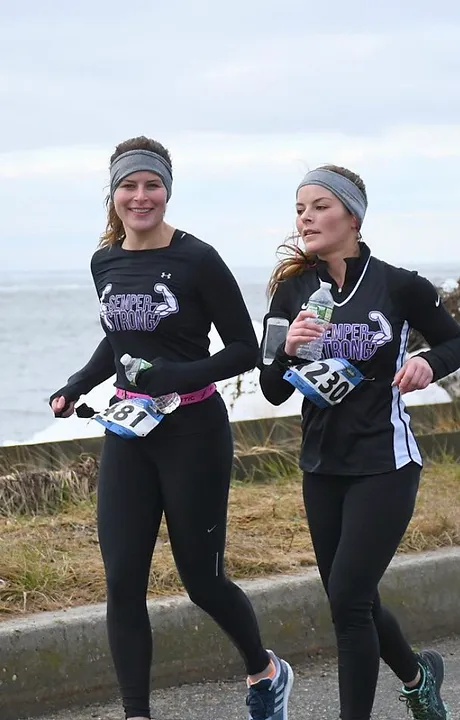 Katy has been in the training field for over 20  years facilitating adults, children, and athletes as an owner of the facility, Semper Strong. Her experience for speed, agility, strength and sports specific training includes athletes of all ages from elementary-aged to senior adults. Katy's philosophy began based on her own athletic journey and passions forcing her to learn athletic injury prevention and how to train smart while injured, training during pregnancy, and being an overall well-rounded athlete. Her expertise continued to grow and ultimately began merging the mental and physical aspects of the game.
Her background includes athletics, martial arts, triathlons, multiple marathons, Elite Spartan racing, crossfit regionals competitor, multiple fitness/bikini competitions, and an Ironman (2.4 mile swim, 112 mile bike, 26.2 mile run).
She is passionate about kids and their well-being and became a NAMI mental health advocate in 2014. She is co-founder of Using Our Voices Mental Health run series where Semper Strong athletes of all ages run, pace, and facility runs around the island to advocate for mental health awareness.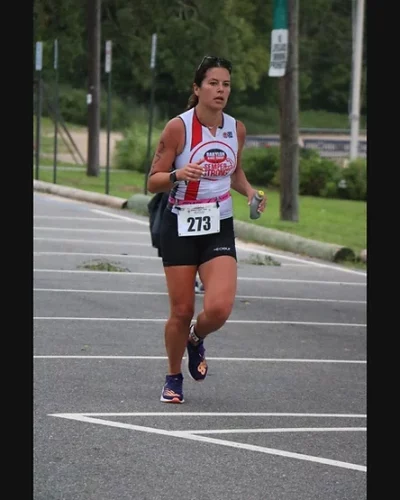 Katy Forman Places Second for Age Group in Tobay Triathlon
You may be strong, but are you Semper Strong?
Your Fitness Family Awaits
When you step into Strong Semper, you're not just joining a gym – you're becoming part of a supportive and uplifting community. Our classes are designed to foster camaraderie among participants of all ages, whether you're a young enthusiast aiming to improve your sports skills or an adult dedicated to enhancing your fitness journey. The bonds you forge within our walls extend far beyond the workout, creating friendships and connections that make sweating it out an enjoyable and empowering experience. Together, we celebrate victories, overcome challenges, and grow stronger, both physically and mentally.
Mastering Agility and Speed
Life is a series of movements, and being agile is the key to staying ahead. Whether you're an aspiring athlete or someone who simply wants to enhance their everyday performance, our speed and agility training will help you unlock a new level of physical prowess. Through meticulously crafted drills and exercises, you'll improve your reaction time, coordination, and overall athleticism. The confidence you gain on the field will inevitably spill into your daily life.
Nurturing Mental Resilience
Our commitment to mental health is at the core of our philosophy. We believe that exercise isn't just a means to sculpt the body; it's a coping skill for nurturing mental health. With our integrated approach, you'll experience the stress-relieving benefits of exercise while gaining access to resources that foster emotional well-being. From mindfulness techniques to community support, we're here to ensure you're equipped to handle life's challenges.
Ariana Palminteri

10

Years with Semper Strong

AMAZING!!! Truly inspiring and couldn't ask for better role models that have come from the gym. From elementary kids, high school kids, college students, and adults we have all created such a wonderful family!!

John Randberg

Since

February 2019 with Semper Strong

Since day 1 was treated like someone who mattered ! Semper , it's trainers , clients , and owner (Katy) treated me with respect and dignity. They go out of their way to make you feel comfortable and good about yourself no matter your abilities or your age.

I've been to plenty of gyms before but no gym I ever went to gave you the attention or respect the way Semper does! Truly a unique gym for people of all ages ! Semper has changed my wife Lisa and my life permanently and both of us have never felt so great ! Thank you Katy Forman and Semper!

Julianne Ventimiglia

4

Years with Semper Strong

My experience at Semper Strong has been truly life changing. As soon as I joined, I immediately felt a sense of friendship and love. I have also been made more aware of the importance of mental health and then benefits of working out on mental health. I have been able to lift and exercise like I never thought I would be able to.

I have grown both physically stronger as well as had tremendous growth as a person. I would never trade the past few years at Semper Strong for anything.

I Am Kaybee

10

Years with Semper Strong

Always a great workout. encouraging. just the right challenge always reaching for a little more!

Kari-Ann Kelly

2

Years with Semper Strong

Amazing! Love every class and all the instructors. I have made great improvements with my overall health and wellness. I even love running now!

Lori

13+

years with Semper Strong

Over the last 13 years, I have grown physically and mentally stronger. Katy has encouraged me to stay focused even during injuries. I love the jolt the workouts give me at 5 a.m. It allows me to get focused to begin a long day of work. I love the inspiration that the gym offers!

Julia Charvat

5

years with Semper Strong

My experience at Semper has been awesome. I've been taught perseverance and how to truly train like an athlete. I believe that if I never attended Semper I would not be the person and athlete I am today.

Sophia Montalto

3

years with Semper Strong

My experience has been great. I started here as a different person. I used semper as a way to cope with things in my personal life and by working on myself I have devolved the best habits and met the best people. Semper is like a family we all love and care for each other. We all cheer each other on and it's just great part of my life that has helped me grow so much.

Jules Montalto

3

years with Semper Strong

My experience at semper has been amazing. I made a lot of friends that i love so much and when i first came to semper i just had gotten hurt. i tore my acl when i was in 7th grade. so working out everyday and seeing those type of people help the process so much.

I have been there every since and this gym has helped my fitness journey. the trainers test and push you to reach your potential. i wouldn't be the same without semper and my fitness journey here.
We believe in teaching athletes to own their own program and progress enhancing their growth on all levels: athletically, academically, and mentally.